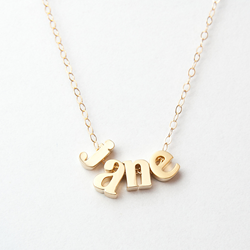 Downers Grove, Illinois (PRWEB) April 11, 2014
Introducing adorn512, a contemporary and minimalist jewelry line featuring custom hand stamped name, initial, and unique character pieces. A thoughtful gift for mom, adorn512 offers its customers personalized jewelry wide variety of pricing options including higher end pieces made with 14K gold, white and rose gold as well as sterling silver, gold/silver fill and plated alternatives.
Founded in 2009, Dana Mitchell began her career in jewelry as a curator, but soon started designing and creating her own line of jewelry. She launched adorn512 after witnessing the trend and demand for uniquely designed custom personalized jewelry featuring names and initials. Since then, she has expanded the line to include other distinctive charms and designs.
Mitchell shares a few highlights from her spring collection that also would make a thoughtful Mothers Day gift: